Celeriac Galette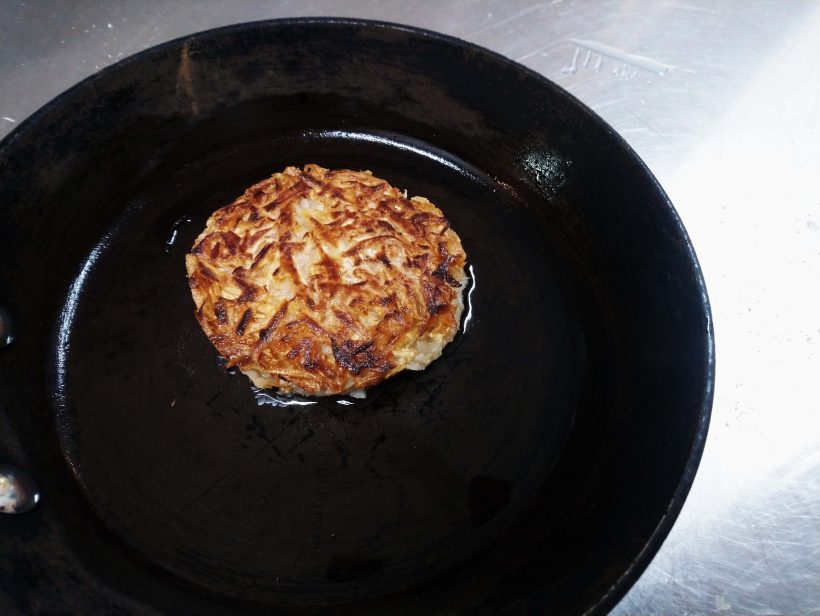 When it comes to vegetables, winter is the best time of the year in Oz, period. We get globe and Jerusalem artichoke, all the brassicas (cauliflower, broccoli, turnip, swede, kohlrabi, cabbages, Brussel sprouts,…) and, …, celeriac. It is also called a root celery, and it does taste a little like celery, except sweeter, nuttier, creamier and definitely smoother.
It works very well roasted ( simply with butter or olive oil, and thyme) and in mash. The recipe below is a great way to enjoy this vegetable in an unusual way. It goes very well with Eastern spiced chicken breast, or pork.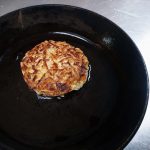 Celeriac Galette
A tastier and healthier take on the hash brown
Ingredients
200

gram

Celeriac

peeled

1

tsp

Potato starch

1

tbsp

Olive oil

Ghee, butter, dripping

Sea salt
Instructions
Wash then peel the celeriac.

Using a coarse grater, grate 200gr of celeriac. Turn oven on 180°C.

Add the potato starch and a good pinch of sea salt, mix well with your fingers.

Place a frypan over medium heat, add your cooking fat of choice. Put the rings in and make sure they are well greased inside.

When pan is hot (fat starting to smoke), share the celeriac equally between the rings, but don't press it in. Cook for 5 minutes, being careful not to color too much the galettes.

Remove pan from the heat, separate galette from ring with a knife if need be, then turn them over and put in oven for 10 minutes.

Remove from the oven, serve straight away or keep in fridge for a couple of days (reheat in 160°C oven for 5 minutes).
Recipe Notes
This recipe allows to enjoy the creamy soft texture of cooked celeriac with a little crunch from the caramelized thin threads.