Private one-on-one cooking lesson
It's a hands-on private cooking lesson with Chef Pierre-Antoine. The topic may be a technique, a type of cuisine or some recipe you are interested in mastering. The chef brings all tools and equipment needed and the lesson can last from 2 to 6 hours, depending on the topic.
Private cooking class party
We can entertain you and your guests with an intimate cooking party. Invite your co-workers or best friends over for a cooking class in your own kitchen. This is always a great way to entertain and learn in the comfort of your own home. Although it is mostly a demonstration, you will participate and be involved. It will last at least 2 hours.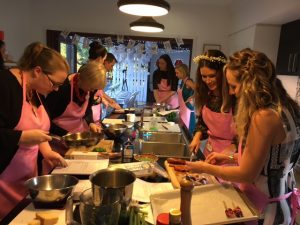 Prices
A full list of up-to-date prices are available on our Prices page. Needless to say, the final products stay in your kitchen!!
Latest Feedback
"Thank you so much for everything on Saturday! We all had a fabulous time.
The night was really special and Sophie loved her food so thank you again."
Warm regards, Aimee T., Kedron, July 2017″