Potato gnocchi
For most, the name "potato gnocchi" makes us salivate as well as a little tense if it means making it… But with a little knowledge and time at hand, those soft and delicious morsels aren't that hard to make.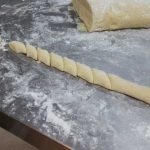 Potato gnocchi
Basic recipe for delicious and soft gnocchi
Total Time
1
hour
30
minutes
Ingredients
2

Kg

Flour old potato

200

Gr

Rock salt

5

Egg yolks

200/300

Gr

"00" flour

Salt and Pepper
Instructions
Turn oven on, 180 °C.

Scrub potatoes well, pierce skin all over quickly with fork. Place on baking paper lined oven tray, on rock salt. Bake for 45/60 minutes, or until soft to the core.

While potatoes are cooking, get ready with the yolks and flour.

Once cooked, remove from tray, rub away salt. Split open in half and let cool down just enough so you can hold them. Scoop flesh out, into a bowl. Once finished, use a moulis or ricer to mash the flesh still hot onto clean bench.

Let cool down till warm, then drizzle yolks, salt and pepper, and sieve about 200gr of flour all around. Using a dough cutter, cut through the dough in a crossing pattern, which will allow to start incorporating yolk and flour to the potato without stretching the gluten. Then fold over sides to the center, making sure to only press vertically after folding.

Once all is incorporated, and if your dough doesn't feel sticky anymore, try to cook a small ball size portion in salted boiling water. After a minutes or so, the gnocchi will rise to the surface, cook for another 45/60 seconds. If it has held its shape well (it will have swollen though), and hasn't desintegrated at all, the dough is ready. If too soft and fallen apart in the water, sieve another 50gr of flour and start again until the gnocchi hold cooking well.

You should end up with soft and fluffy dough, looking like this one.

Then, cut a mango size portion, roll onto bench into a cylinder of 2cm diameter. Cut every 3cm. Those gnocchi can either be cooked straight away (or within a couple of hours) or frozen for later use

Tips :

I usually buy the big old looking brushed potatoes in supermarkets, as they usually are pretty old!

I taste my dough to adjust salt level. Better having it under seasonned than too salty...