Gluten/Dairy Free Hazelnut Cake
I am so happy about this recipe. I often hear gluten and dairy free cakes can be boring/dry,… And it is often true..
This recipe below, that I developed for a recent canapés function, is absolutely delicious and super fast to whip together,.
Enjoy,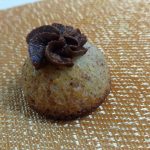 Gluten and Dairy Free Hazelnut Cake
This is a delicious gluten/dairy free version of the famous French Financier
Ingredients
150

gr

Egg White

About 4 egg white

175

gr

Icing Sugar

Pure

150

gr

Coconut Oil

80

gr

Hazelnut Meal

30

gr

Buckwheat Flour

20

gr

Maize Flour

Pure

1

pinch

Salt
Instructions
Turn oven on, 180ºC.

Whisk egg white, salt and sieved icing sugar till melted. Add sieved flours, whisk till combined, then add melted coconut oil (be careful it isn't too hot).

Pour in greased ( coconut oil spray) shallow tins/mould, cook till golden brown, and firm to the touch.
Recipe Notes
This is an extremely easy and fast recipe to make, and you would never guess it is without any dairy or gluten. 
Traditionally, financiers are cooked in a shallow rectangular mould, but this is hard to find here. I used a flexible silicone spherical mould, just sprayed with coconut oil, works perfectly for "mignardise" (petits fours).
Here, I have piped a dark chocolate/coconut Ganache (also gluten/dairy free)